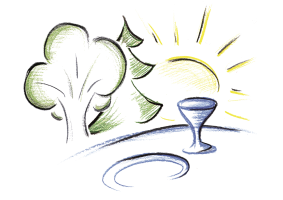 In 1953, Mr. Erwin Knittel bartered his Gasthof The Sun establishment in Schönaich for a piece of farmland and begin to to build his new Restaurant. Opening in February, 1954, the Restaurant is located between Schönaich and Steinenbronn in a beautiful valley of fields and forest.

At the time, his main room seated up to 50 persons with an extra room for 20 more customers. An outdoor beer garden easily seated an additional 50 visitors in the spring and summer months. In 1969, a large Hall was built for parties of up to 80. Erwin and his wife, Klara, operated the Restaurant Sulzbachtal through October of 1971.

In November, his son Erich and his wife, Ursula took over managing the Restaurant. In 1983, they redesigned the beer garden and the main Entrance. 14 years later, they remodeled again. Today the Restaurant Sulzbachtal includes a main dining room, a small hall and a large hall. These rooms seat 50, 60 and 80 visitors respectively. The Forest Beer Garden is still maintained in the summertime and seats over 100 visitors.

In January, 2008 the Restaurant Sulzbachtal passed on to the third generation. Erich's son, Markus Knittel now leads the Restaurant with a wide new menu. With lots of help from his parents and lots of fun at work, Markus and the staff at Restaurant Sulzbachtal look forward to satisfying their customers.